Episodes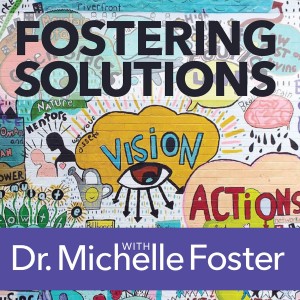 Tuesday Sep 20, 2022
Tuesday Sep 20, 2022
LaKeisha Barron-Brown: Making INROADS for Youth
LaKeisha Barron-Brown is Dr. Foster's guest on this episode of Fostering Solutions. A native of Detroit, Michigan, LaKeisha has lived in Charleston, West Virginia, for most of her life. She is a South Charleston High School and Marshall University graduate. 
LaKeisha has an extensive professional background in providing therapeutic services to the substance abuse population. In 2013, the West Virginia Supreme Court of Appeals hired her to serve as the Probation Officer/Coordinator for the Putnam County Adult Drug Court, a newly created program within the Putnam County area. After leaving Putnam County, she later went on the work for Aetna as a Medicaid Members' Advocate. However, as LaKeisha has enjoyed working with the substance abuse population, she recognized her true passion was working with the youth. 
LaKeisha is currently the INROADS College Links WV Program Manager. This position allows LaKeisha to help foster personal, educational, and leadership development skills among traditionally underserved minority high school students. As an INROADS alumnus, LaKeisha can attest to how the program influenced her college and career success. As a result, she desires to ensure that scholars within the area have the same opportunities. 
In her spare time, LaKeisha is devoted to impacting the community. On October 26, 2021, LaKeisha lost her 21-year-old son to COVID-19, and since his passing, she has found strength in serving her community through her grief. She has made it a mission to educate the community on COVID awareness and the importance of getting vaccinated. She has also authored a self-help journal entitled: Loss of Self: Turning Sorrow into Service ™ and an autobiography titled Through the Eye of a Crack Soul. LaKeisha recognizes that her strength to "Survive" is a guiding force in inspiring and uplifting others. 
In 2020, LaKeisha was selected as a WVSSAC Girls' Basketball State Tournament official. Not only was it an honor for her to be chosen, but she made history as the First African American woman to officiate a WVSSAC Girls' Basketball Tournament. Alongside making history as the first African American woman, the three-person crew was also African American, which had never occurred in West Virginia. LaKeisha is currently the Vice President of the Charleston-Institute Alumnae Chapter of Delta Sigma Theta, Sorority, Inc., a devoted mother, grandmother, and a community advocate for the citizens of Charleston, particularly the youth.