Episodes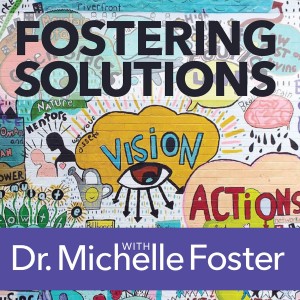 Friday Mar 18, 2022
Friday Mar 18, 2022
Morgan Rhea Beals is Dr. Foster's guest on this episode of Fostering Solutions. Morgan and her husband Michael started Morgan Rhea, an American-made luxury leather brand, in 2015. Morgan always knew she wanted to be in the fashion industry. Coloring and designing outfits were her favorite past time. Her mother, Kathi, would take her along on her work trips. Kathi was an account executive for Elizabeth Arden. Morgan was always around fashion and drew inspiration from her grandmothers and aunts. 
Morgan is a graduate of Kanawha Valley Community and Technical College, where she earned her Associate in Fashion Merchandising degree. Additionally, she earned her Bachelor of Fine Arts degree in Accessory Design at Savannah College of Art and Design (SCAD) in 2014. 
While at SCAD, Morgan was selected to meet with industry leaders, including Zac Posen and Alexander Wang. She learned from professionals how to perfect the art of making accessories. Upon graduation, Morgan won an international award for Best Student-Made Handbag at the International Handbag Designer Awards for her "Ronald Briefcase" from her Silently Speaking Gratitude Collection. She also made a pair of shoes for singer John Legend. As an apprentice at the Coach headquarters in New York City, Morgan learned even more sophisticated leather-crafting techniques at the 78-year-old luxury goods company. 
After completing her time in New York City, Morgan returned to her Appalachian roots and started her family-owned business in Charleston, West Virginia. Morgan Rhea continues to work with celebrity clientele while growing internationally.